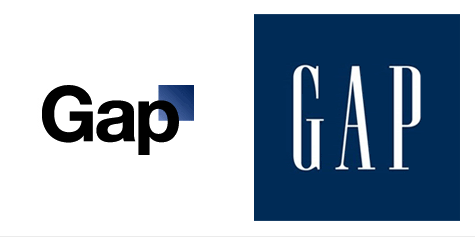 Rebranding can be a gamble.  It can refresh your company and bring it current or it can confuse and irritate customers.  Recently Gap took that gamble an unveiled a  new logo.  The new logo attempted to keep an element of the iconic logo that has defined the brand for 20 years, a white background with black letters and a little blue shaded box in the upper right hand corner.  Customers were not happy to say the least.  The new logo received negative public outcry from customers on the social media circuit and it is no surprise why.  The logo looked like something my six year old daughter could have made on the paint program.  Customers on Gap's Facebook page even went as far as to say that if they kept the new look that they would no longer be buying clothes at the store.  Gap has since decided to stick with the old logo and has pulled all plans to unveil it at their stores.
The new logo even inspired a website where you can "Crap Logo Yourself."  You enter your own text and you will get a logo inspired by Gap's lame attempt at a new logo.  To crap your own logo go to:  http://craplogo.me/
The attempt at changing the logo was partly fueled by Gap's sales figures which were down 4% this year following a 10% decline the year before.  But before panicking and grasping at straws to increase sales, companies need to consider all of the reasons that sales might be down including recessions, lack of discounts or coupons, off-trend products or the amount of advertising they are utilizing.
So what lessons can we learn from this marketing disaster?
1.  Social Media is a Powerful Force
With the age of instant communication with cell phones and social media sites the era of rebranding in a board room without customer feedback is over.  Companies should view this as a blessing instead of a curse because they can save tons of money by finding out that their design is going to tank before they change all of their signs, products and such.  Back in the "old days" companies wouldn't find out that their attempt at rebranding failed until their quarterly sales numbers came back.  With Facebook and Twitter customers are more engaged than ever with their favorite companies and products and they aren't afraid to share their opinions.  Utilize these outlets to gain customer feedback, take polls and test your new ideas before making a final decision.  After all if your customers aren't happy, nobody is happy.
2.  Don't Take Your Customers for Fools
Although most of your customers probably aren't graphic designers by trade, the technology on the internet and home computers is so advanced these days that a novice can design a pretty decent logo at home with a few hours practice.  Bottom line – they can recognize "lame work".
3.  For Rebranding to Work it Takes More Than Just a New Logo
This is something we emphasize with all of our clients who are branding or rebranding.  A brand is NOT just a logo.  A brand is your products, color scheme and the general feel of your company.  If you think you can just change your logo and something magical will happen with your sales you are sadly mistaken.  Rebranding does work but it takes a major overhaul of your website, print materials and consideration of whether or not your products or services are current and what customers want.
4.  As the Old Saying Goes "If it Ain't Broke Don't Fix It
Gap's logo is about as iconic as they come.  It's classic styling and simplicity will probably never go out of style.  I'm not saying that the company should never consider rebranding, but maybe they should listen to their customers and rebrand when they suggest that it is getting stale.